Welcome to Lahay's
Hobby & Crafts
We are a hobby and craft store conveniently located in downtown Orillia. We have a friendly knowledgeable staff that can help you with all your hobby and crafting needs. Drop in and see what fun we have in store for you and your family.

Arts
Paint by number
Brushes
Paints
Art pads & Canvas
Much more!

Crafts
Yarn
Knitting & crochet supplies
Stitchery
Needle Felting Supplies
Craft kits

Toys
Thomas the train
Bruder construction
Schleich
Melissa and Doug
Meccano
Puppets
Science kits
Models
Trucks
Cars
Planes
Glue
Paints
Puzzles
Puzzles
Cobble hill
Eurographics
Autruche
Games
Family board games
Cards
Dice
Outdoor Games
Rubix Cubes
'Tis the Season for Stocking Stuffers!
We have a great selection of items that are PERFECT for stuffing HOLIDAY STOCKINGS!
Drop by the store soon!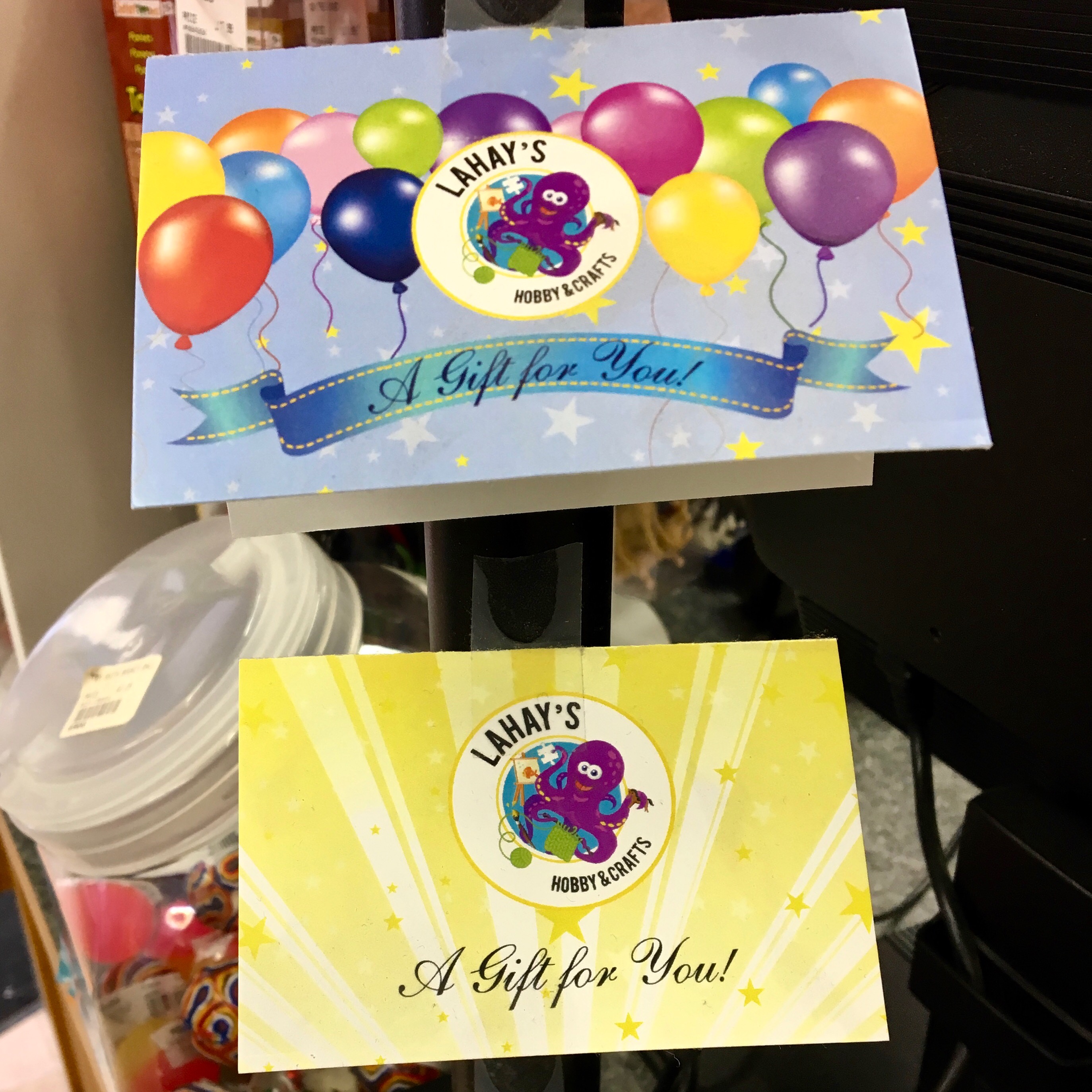 Gift Certificates Available
Can't decide what to give this Holiday Season? We have Lahay's Hobby & Crafts Gift Certificates, you choose the denomination!
TY toys Fashion Slipper Socks for kids.
SO sweet! Just arrived at the store – TY toys Fashion Slipper Socks for kids.
Perfect to keep feet toasty and warm during the chilly winter months!
OPEN Sundays until Christmas
We are OPEN Sunday beginning November 18 for your holiday shopping needs.
11am to 4pm.
Farm Hoppers!
LOOK what hopped into Lahay's Hobby & Crafts – NEW Farm Hoppers including the 'Wildlife Hopper' Moose!
Drop by soon to discover them all!
NEW TY Beanie Boos!
We are stocked up with sweet TY Beanie Boos.
Drop by to discover them all!
NEW Puzzles!
'Tis the Season to Stock up on PUZZLES!
We have a great PUZZLE section at Lahay's Hobby & Crafts.
Brand names in a wide range of subjects including Eurographics, Cobble Hill, Anatolian, Schmidt, puzzle frames + more!
Seasonal Puzzles!
Lahay's Tuesday Evening Stitch Social
Begins Tuesday, June 12, 6-8pm and continues every Tuesday evening. Drop in, bring your knit, crochet or stitchery project and enjoy a fun, social evening of creating! No need to register. For full details contact Sue at the store.
About Us
Over the past 30 years with hard work and great customer service Dave & Marilyn Lahay have built an amazing business. We look forward to helping you with all of your crafting and hobby needs using those same great traditions.
Thank you for your continued support.
Paulo & Sue Guilherme
Contact
Hours of Operation
Monday to Saturday – 9:30am to 5:30pm
Sunday – Closed
Give Us a Call
Address
Lahay's Hobby & Crafts
21 Mississaga St E
Orillia, ON
L3V 1V4
Lahay's Hobby & Crafts
21 Mississaga St E, Orillia, ON L3V 1V4, Canada